Online:Faradan
The UESPWiki – Your source for The Elder Scrolls since 1995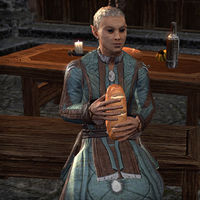 Faradan is a Bosmer mage can be found in The Waxing Crescent, Anchor's Point Inn or Shadehome Inn. He is a friend of Narahni and is protective of her.
Related Quests
[
edit
]
Quest-Related Events
[
edit
]
You can find him somewhere in your alliance's respective inn.
"Don't recall seeing you before. So many new people coming through. Makes my head spin!"
I'm looking for a Khajiit woman.
"Not at all the question I expected. You have piqued my curiosity.
Why do you seek some random Khajiit? Is there some problem?"
She sent a letter to a friend. The friend wants to reconnect.
"Oh, well, in that case .… An elderly Khajiit does work here. She's a cook. Bakes the best pies in town. They really are quite tasty!
But she's indisposed at present. I won't let you disturb her rest."

How long has she been working here?

"That's something you'll have to ask her. It's not my place to talk about the hired help.
I do believe she traveled a fair bit in her youth, though."

Can you at least tell me her name?

"I suppose that won't do any harm. Narahni is a kind, gentle old woman. And a master baker of scrumptious pies.
The people here are very fond of her. And very protective."

Thanks for your help. (Appears after asking one of the above questions.)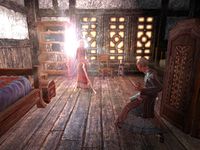 After you have found Narahni and asked her how she knows Velsa, Faradan will appear, annoyed that you have been disturbing her.
Faradan: "Narahni, are you all right? I specifically stated that you were not to be disturbed!"
Narahni: "Easy, my friend. This one has decided that the time has come to travel and mend old wounds."
Faradan: "The letter bore fruit? I wish you well, but we're going to miss your pies around here."
Narahni: "Could you open a portal to Abah's Landing, my friend? A long journey always makes this one's old bones ache."
Faradan: "Gladly, but I can't keep it open for long. The innkeeper doesn't like me using magicka in here."
Narahni: "This one will write to you. And I'll even sign the letter this time!"
Faradan: "Of course. Now give me time to concentrate."
Narahni: "Come, my new friend, let's take this portal to Abah's Landing. If you dislike portal travel, then make your own way and meet me there."