Online:Falarel the Jester
The UESPWiki – Your source for The Elder Scrolls since 1995
This article is about the Jester on Auridon. For the bard in Daggerfall, see Falarel.
Falarel the Jester
Location
Antechamber, Castle Rilis
Race
Altmer
Gender
Male
Health
133,844
Difficulty
Reaction
Hostile
Class
Assassin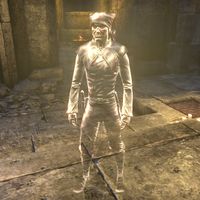 Falarel the Jester is a mad Altmer spirit found in the ruins of Castle Rilis. He is the former jester of High Kinlord Rilis XII known for his sadistic 'jokes'. He moved to the ruins after the death of his former master, where he began receiving 'nocturnal visits' from his ghost. He died in an accident as he wanted to show the ghost to Telenger the Artificer and Flaccus Terentius.
During the related quest, he has to be defeated to be able to unite the also decesased Lisondor with his soul. As you attack him, he'll say, "Why aren't you laughing? Don't you get the joke? My death is my masterpiece."
Related Quests
[
edit
]
Skills and Abilities
[
edit
]
Falarel dual-wields uses Assassin abilities:
Quick Strike

A basic melee attack that does minor physical damage.

Whirlwind

He spins around, doing moderate physical damage to all players as indicated by a red circle. Blocking will reduce the damage taken.

Assassinate

Falarel strikes at the player's back for moderate physical damage. This attack can only be performed if the enemy is behind the player, and thus he will often leap to get behind the player. Ensure your character is facing the enemy at all times to prevent this.