Online:Erranza
The UESPWiki – Your source for The Elder Scrolls since 1995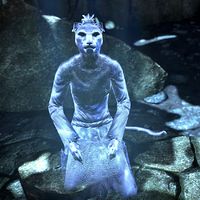 Erranza is the spirit of a Khajiit held prisoner in White Rose Prison. Her spirit asks you to reunite her with her family by retrieving their remains and giving them a burial outside the prison.
Related Quests
[
edit
]
Quest-Related Events
[
edit
]
"Even in death, I feel trapped here. Part of my soul is tied to this prison."
What can I do to help you?
"The Imperials brought my family here after they killed my husband. My children, Nuzal and Zarukhari, are somewhere in the dungeons.
I need them with me before I can pass on."
Where can I find them?
"They're dead, too … somewhere in here. The Imperials took them away from me.
Please bury us beneath the tree just outside the cave entrance to the prison. Inter us in the open air, away from this dank place."
I'll take care of it.
"Find them. Find their ashes. I'll never find peace until we're together once more."
Do you know where your children could be?
"Families were always separated. Though kept apart, we sometimes managed to meet. When I despaired the most, thoughts of them kept me sane.
In the end, they died deep within this place, alone and afraid. Look in the cells."
How did you die?
"My memory fades, thank S'rendarr.
I remember fear, rage, and pain … and then relief."
Finding Zarukhari's Remains:
Erranza: "Her father made that doll from an old shirt. It always smelled like him."
Finding Nuzal's Remains:
Erranza: "Mara bless him, I made that bracelet for Nuzal."
Erranza: "My poor children and I deserve a better resting place."
Finding Erranza's Remains:
Erranza: "They put me so far from my children."
Speaking to her by the tree after burying her remains:
"Together, finally. S'rendarr answered my prayers."
Are you at peace?
"I am. This was our favorite place in the prison. We'd meet in secret, dreaming of escape and our life beyond these walls.
Once the guards found us and punished me severely, but those fleeting moments of peace were worth every lash."
She disappears after the quest.