Online:Elgenie
The UESPWiki – Your source for The Elder Scrolls since 1995
Elgenie
Home Settlement
Northglen
Race
Breton
Gender
Female
Health
25974
Reaction
Justice Neutral
Pickpocket
Hard
Profession
Mage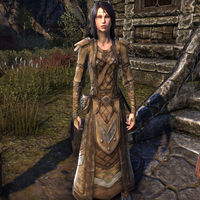 Elgenie is a Breton mage helping the wounded members of the Evermore City Guard fighting the Dark Witnesses at the settlement of Northglen. She appears to be particularly good at making magical poultices as they are used while you deal with the Reachmen in the area.
Related Quests
[
edit
]
Dialogue
[
edit
]
If you speak with her before starting Beyond the Call, she will direct you to speak with Captain Eugien Gaercroft.
"If we can't get the information we need, we may be better off barricading Evermore completely and preparing for

a 

[sic] siege.
If you can help, please speak with Captain Gaercroft. We need it."
However, if you talk to hear after agreeing to help, she will explain what her poultices do.
"Did the captain give you the poultices? Hang on to them. They heal the user and grant temporary invisibility.
There should be enough for you as well once you find all the scouts. It wears off rather quickly, so don't use them until the time is right."
Once you return to camp after finding the scouts and dealing with the Reachmen, Elgenie will muse about having help.
"If only we had the full force if the Mages Guild behind us. These Reachmen wouldn't last long."
After witnessing Isabeth's sacrifice, she will say:
"Self sacrifice is rare these days. I hope Captain Gaercroft is finally proud of his daughter. Not that he wasn't. Perhaps now he'll finally show just how much she meant to him."