Online:Elder Erthor
The UESPWiki – Your source for The Elder Scrolls since 1995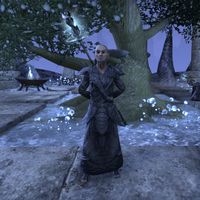 Elder Erthor is a Bosmer and one of the elders of the Shadow Walkers Clan found in their council room located high above the Moonless Walk. He is Faraniel's father.
Related Quests
[
edit
]
Dialogue
[
edit
]
"This is a great privilege, allowing you to stand here. Never before has an outsider been permitted to set foot on this platform. My daughter, however, was insistent that we speak with you.
We shall hear what you have to say."
Faraniel said that a contract binds you to Molag Bal.
"Yes, we have sworn to protect the passage that leads to the tower known as the Lightless Oubliette. In exchange, we have been given the gift of shadow-walking.
When our contract is fulfilled, the Daedric Prince shall send us back to Valenwood."
Response
Dialogue
I understand your situation, but with all due respect, I think you have been tricked.

My lord, even now Molag Bal actively works to destroy Nirn. There will be no Valenwood to return to.
"Respect is a luxury I cannot afford. I need proof that Molag Bal lies to us. Do you have such proof? Can you show it to me?"

"I have heard your words and shall think upon them. Please, speak to the other elders and tell them of your fears and concerns."
I see how well that's worked out so far. What's a few hundred years when you're having fun, right?
""
You're a fool to think Molag Bal will ever allow you to leave.
""
Depending on what you said and how you behaved, there are a few ways the councils decision can go.
The Council was convinced:
"The council can no longer ignore the truth happening around us. For too long we obeyed our vows and waited for a reward that will never be granted.
Should we continue on our path, even after Valenwood is destroyed?"
"It means that your argument has convinced us. I sent runners to unlock the ruined passage that leads to the tower. My daughter said you were interested in the place.
I will also send a group of soldiers to aid you against Molag Bal."
You failed to convince the Council:
"No agreement was reached. Some sided with you, others were not swayed, but we remain divided on what to do.
Without a clear decision, we must continue on the course we currently follow. We remain in the service of Molag Bal."
"It means that the time has come for you to depart the Moonless Walk. You are no longer welcome here. If any of our people aid you in any way, they will be exiled from the clan.
We appreciate the honor deed, but this conversation ends here."