Online:Drelden Orn
The UESPWiki – Your source for The Elder Scrolls since 1995
Drelden Orn
Home Settlement
Senie
Race
Dunmer
Gender
Male
Reaction
Friendly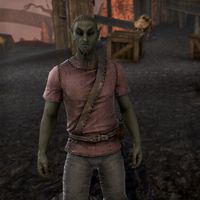 Drelden Orn is a Dunmer found in Senie. He owns a kwama mine just west of the town. He's recently lost his kwama, who became frightened and fled when Ash Mountain erupted, and he's looking for help recovering them, as he was injured in the eruption.
Related Quests
[
edit
]
Dialogue
[
edit
]
"Um, your pardon. Have you seen any kwama around? Maybe west of the town? If you do, I don't suppose you could lead them to my mine, could you?"
?
"Um, yes. When the volcano erupted, my workers got frightened and fled. Now they're attacking anyone who wanders too close. They're usually timid, so a good beating should calm them down."
Why aren't you doing this yourself?
"Me? Look at me. I'm hurt. Just beat them a little then blow this whistle. They're trained to return to the mine."
Alright, I'll herd your kwama for you.
"Remember, subdue, then use the whistle. If you don't, they'll just start fighting again. I'll be at my mine, west of town. I've got to salvage what I can."
What's a kwama mine?
"It's where you get kwama eggs. You can also get kwama cuttle, the waxy substance that grows on their beaks."
That doesn't sound like mining.
"Well, it's a hole in the ground where kwama live. That's a mine. You didn't think we dug it up like those Nords dig iron, did you?"
What's kwama cuttle used for?
"I don't know. Potions, I think, or something to fight poison or cleanse water. I never asked. I just harvest it."
Meeting him at the mine after herding his kwama:
"Look at all my beautiful kwama! Their beady little eyes, the gently pulsing of their abdomens. I can't thank you enough!"
What will you do now?
"I'm going to have to get the mind back open, of course.
Kwama are very good diggers, you know, particularly the workers."
Post-quest dialogue:
"So much work to do. I can't let this mine sit idle forever."