Online:Dralof Waterwalker
The UESPWiki – Your source for The Elder Scrolls since 1995
Dralof Waterwalker
Location
In the hotsprings south of Ratmaster's Prowl
Race
Nord
Gender
Male
Reaction
Friendly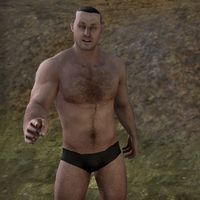 Dralof Waterwalker is a Nord found at the hotsprings located south of the Ratmaster's Prowl.
Related Quests
[
edit
]
Bath Time: Recover some bath salts for bathers in the hot springs.
Dialogue
[
edit
]
Bath Time
[
edit
]
"Shor's blood! You're a serious one, aren't you? Why not stop and enjoy the springs with us?"
What's your business here?
"Business? We have no business, stranger! No war, no Orcs, and no giants. We just relax and enjoy the hot springs.
But now that you mention it …."
What?
"My friend Grida heard about some special bath salts. They're made at the Darkwater Crossing apothecary. She went to get some, but she hasn't returned.
See if you can find her. Or better yet, just bring us those salts!"
I'll try to find your friend.
"Grida is too serious. Kind of like you. If you find her, great. If not, whatever. Don't worry about it."
After you have the bath salts, he'll say:
"You're back! Did you get the bath salts?"
I have the bath salts. And I found Grida.
"Really? Hand them over then! Let's get this party started!"
I don't think the bath salts are safe.

"They're bath salts! Next you'll tell me that mead is bad.
You sound just like Grida. Give me the salts!"

Do you care what happened to Grida?

"Hey, she's nice and all, but she's clingy. She was starting to mess with my relaxed attitude.
But you brought the salts! Let's just enjoy them."

I think the bath salts turned Grida into a zombie.

"That's a good one! What a joker! A zombie ….
Come on, hand them over."
At this point you can either give him the salts, or not:
All right. If you insist.

"Yes! This is going to be epic, my friends. Epic!"

No. The salts are too dangerous.
If you give Dralof the slats, the following scene will play:
Dralof Waterwalker : "Prepare for ultimate relaxation!"
Jorygg Bitterblade : "What is that stuff, Dralof? It burns!"
Frera Dagger-Lost : "This doesn't feel very relaxing."
At which point, all three are killed.