Online:Doneth
The UESPWiki – Your source for The Elder Scrolls since 1995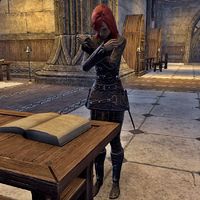 Doneth is a Bosmer student found at the College of Aldmeri Propriety. She cannot be talked to, but she is heard participating in Piromir's class:
Piromir: "Repeat the pledge again, class."
Borchon and Doneth: "We swear fealty to the Dominion. We renounce the Green Pact."
Piromir: "I can't hear you. Louder!"
Borchon and Doneth: "We protect the Dominion from her enemies. We give our lives in her defense. And we recognize the Altmer as our betters."