Online:Deep-Root
The UESPWiki – Your source for The Elder Scrolls since 1995
"The Tree sleeps over [illegible] writhe deep and/with caressing [rock or abscence of rock] opposite [?] the Sun despite time despite hunger despite walking-scales [illegible]. Now enter."—Crabbidge's Standard Translation of the Vakka-Bok Inscriptions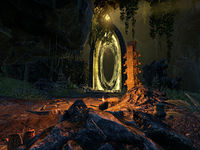 Deep-Root is a cavern directly beneath Root-Whisper Village. The base of the cavern is flanked on either side by cliffs and the bottom is covered in a shallow pool, over the centuries it has become full of dangerous plant and animal life. At the southern end of the cavern, up high, there is Argonian-styled door which leads to the chamber containing the Remnant of Argon. It is only accessible through the Vakka Stone powered Grand Nexus Portal.
The Remnant Chamber[verification needed — see talk page] is a large circular room lined with fountains from which hist sap flows and sits directly beneath the Hist tree in Root-Whisper Village. The Remnant of Argon sits in the center of the chamber, untouched since its' use many centuries ago.
The Remnant itself is guarded by a Colossal Miregaunt, which forms around an individual who touches the Remnant — and tries to consume them.
Related Quests
[
edit
]
Denizens
[
edit
]
†
Only during the respective quest
Gallery
[
edit
]