Online:Dagaril-dro
The UESPWiki – Your source for The Elder Scrolls since 1995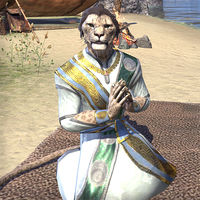 Dagaril-dro, also known as Old Grandfather, is a Khajiit loremaster who can be found at a tranquil location in Auridon, Glenumbra, or Stonefalls depending on your alliance.
During the Elsweyr prologue quest, Abnur Tharn sends you to gather dusk mushrooms and gift them to him so Dagaril-do will tell the location of the moon-singer storytellers. After this, Abnur Tharn appears and pays his respects to Dagaril-dro for his help.
Related Quests
[
edit
]
Dialogue
[
edit
]
"Ah, walker, good tidings and heartfelt salutations! Dagaril-dro wonders what brings you to this serene location. This one rarely receives visitors.
Wait, wait. Something smells delicious, yes? Do you, perhaps, carry dusk mushrooms in your pack?"
As a matter of fact, I brought the dusk mushrooms just for you.
"Dusk mushrooms? For Dagaril-dro? What a kind and generous gift to present to this old bag of fur and bones.
Still, even a gift is rarely free. Speak and this one will listen. Maybe even help if it is within this one's ability to do so."
Abnur Tharn says you can direct us to moon-singers who can recite the secret tales of Khunzar-ri.
"Does he, now? What else has that old wizard told you? And why does an ancient battlemage care about a secret order of storytellers and a forgotten hero named Khunzar-ri?
No matter. For dusk mushrooms, this one will tell you almost anything."
Here are the dusk mushrooms. Now tell me where I can find the moon-singers.
"Oh, these will make a wonderful soup. Thank you! Three moon-singers carry the secret tale of Khunzar-ri and the demon, each a different part. Find Azargo Long-Tale at the Redfur Trading Post, Mizbina at Baandari Trading Post, and Satarri in Rawl'kha."
I'll tell Abnur Tharn about the moon-singers.
If spoken to again:
"Dagaril-dro thanks you for the mushrooms, walker, and wishes you well in your travels. May you and the old wizard find the truth you seek in the tales of Khunzar-ri."