Online:Crow Mother
The UESPWiki – Your source for The Elder Scrolls since 1995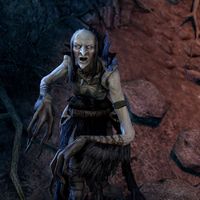 Crow Mother is a "nether-niece" of Nocturnal and the ruler of Crow's Wood. She made a deal with Rulantaril Oran, and when he reneged on the terms, she imprisoned him inside her realm.
Related Quests
[
edit
]
Dialogue
[
edit
]
Crow Mother: "Intruder! Are you here to take him away from me?"
"Sweet Rulantaril came to me, the nether-niece of Nocturnal, to learn the secrets of forgotten magic.
In exchange, when the time came, he was to return to keep me company. That was our bargain, sealed in blood and arcane runes."
So he didn't adhere to his part of the bargain.
"He tried to avoid his responsibilities, but the magic wouldn't allow it. He made a... tiny miscalculation.
When he left, that hurt me deeply. He used me, but I forgive him. He must stop fighting and stay with me."
I know precisely how I'm going to deal with you.
If you choose to kill them both:
Rulantaril Oran: "Leave me alone, you cursed hag."
Crow Mother: "They mean to kill us both, my love. I won't let them hurt you!"