Online:Chanter Amia
The UESPWiki – Your source for The Elder Scrolls since 1995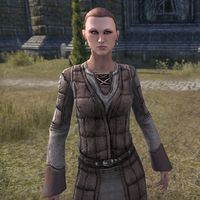 Chanter Amia is an Imperial member of the Akatosh Chantry in Kvatch, the sect dedicated to worshiping Akatosh. She can be found praying in the graveyard behind the Cathedral of Akatosh.
Related Quests
[
edit
]
Dialogue
[
edit
]
If you speak to Chanter Amia before the related quest, she will simply say:
"May the power of Akatosh surround you in these troubling times."
As soon as Sergeant Luca Plavius refuses entry to Castle Kvatch, you can seek out Chanter Amia:
"I find that a visit to these graves is almost as uplifting as a stroll through the Cathedral."
Do you have one of the Primate's seals?
"Of course. I am one of Akatosh's Chanters, after all. But why in the name of the Dragon God of Time are you interested in the Primate's seal?"
I need your seal. Give it to me now.
"I will not! That seal is a declaration and a confirmation of my faith, and I take my faith very seriously."
<Remain silent>

"Look, I can't give you my seal. Even if you took it from me, it would do you no good. I'm afraid I can't help you. I don't make the rules, but I do try to follow them. May Akatosh bless and watch over you just the same."'

[Intimidate] I need to get into the castle. Give me your seal or become a permanent resident of this graveyard.

"By Akatosh's hourglass eyes, you're one of those dark assassin people! The ones the Grand Sermonizer warned us about! Look, there's a hidden passage in the moat, along the western wall. Use that route if you really need to get into the castle."
This had better not be a trick.
"I'm not foolish enough to cross the Dark Brotherhood. It's true, normally chains firmly bar the moat door, but that changed recently for reasons I'm not privy to. Someone must be using it. You can use it, too, if you're quick and quiet about it."
If you speak to her after threatening her, she will say:
"Please. I gave you a way to get into the castle. That's all I can do. My actions this day will haunt me for the rest of my life. Now leave me alone, please."