Online:Castle Giovesse
The UESPWiki – Your source for The Elder Scrolls since 1995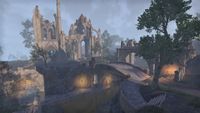 Castle Giovesse is a ruined Imperial fort located north of Gideon. Vasha the Wicked, a powerful Maormer sea mage, is located beneath a tree on the side of the path leading from Gideon to the castle. A crocodile and some death hoppers can be found near her.
Related Quests
[
edit
]
Castle Giovesse Ruins
[
edit
]
Also called "Castle Ruins", this is the exterior portion of the castle.
Tavia's Tower
[
edit
]
Located atop the northeastern hill.
Duchess's Private Study
[
edit
]
The entrance lies through a trap door in the northeastern section of the courtyard, beneath the hill upon which Tavia's Tower sits. A backpack is located to the right as you enter. The lead for a Soiled Tapestry Scrap can be found in a broken part of the northwestern wall.
Giovesse Mausoleum
[
edit
]
Located beneath the bridge leading to Tavia's Tower.
Castle Giovesse also appeared in the in-universe historical fiction series 2920, The Last Year of the First Era as the place where the paranoid Emperor Reman III imprisoned his wife Tavia for seventeen years over fears that she was plotting a rebellion against him. Her Imperial Majesty eventually committed suicide by falling from the open window of her tower four days after receiving word that her son Juilek had been wrongfully assassinated in place of his father. Part of the ruins still bear her name in 2E 582.
Gallery
[
edit
]