Online:Carmalo Nirol
The UESPWiki – Your source for The Elder Scrolls since 1995
Carmalo Nirol
Home Settlement
Hakoshae
Race
Imperial
Gender
Male
Health
39959
Reaction
Justice Neutral
Pickpocket
Medium
Profession
Soldier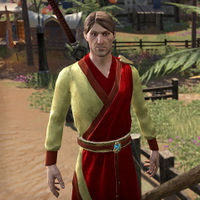 Carmalo Nirol is a Imperial soldier residing in Hakoshae who, when spoken to, reveals he has a bit of a wanderlust, but also worries about losing his Akaviri identity if he travels.
Dialogue
[
edit
]
"There's only so much you can learn by dueling old man Vek-Drassi. If I'm ever to become a skilled warrior, I need to get out there!
You're a traveler, right? You get it. The only way I'm going to get stronger is by leaving this place behind."
"I'm sick of this small town life. What adventure is there to be found in Hakoshae? The people here cling to our Akaviri culture because that's all we have left to be proud of."
"I do want to leave Hakoshae, but … I can't help but worry. My Akaviri blood, thin as it might be, has been a part of me for as long as I can remember.
What if I lose that identity, out in the big world?"