Online:Captain Lagra
The UESPWiki – Your source for The Elder Scrolls since 1995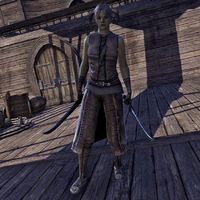 Captain Lagra is an Orc sailor captain of the Lagra's Pearl, a ship wrecked on the shores located north of the city of Northpoint.
Related Quests
[
edit
]
Quest-Related Events
[
edit
]
Northpoint in Peril
[
edit
]
After stealing her key to the smuggler's tunnels from her ship, she calls from the upper level of the ship: "Come out of there! I saw you go down there. Get off my ship before I cut you!" She is not much friendlier face-to-face: "What do you think you're doing on my ship? Do you know what I did to the last stowaway I found?"
I need to slip into Northpoint without being seen.

"Well, the last time I looked, my hold didn't lead into the city. Wait a moment. My key! If you're one of those Montclair bastards, I won't go down without a fight. Now give me back my key!"

I need the key to get into Northpoint. We're going to stop the Montclairs.

"(?)"

[Intimidate] If we start fighting, a sunken ship will be the least of your worries.

"Well, you're a tough one, aren't you? All right. We'll do it your way. I was coming back to get my key. I need to get into Northpoint myself. Rescue my gang. Why should I let you have the key when I have my own needs to consider?"

Because I have an army. When I open the city, things can go back to the way they were.

"At the moment, all I care about is the safety of my gang. They were inside when the city fell. But if this turns out to be a trick, Oblivion won't be big enough for you to hide in. The tunnel's in the cove. It will take you into the city."
She bids you farewell with, "The tunnel is inside the cove beneath the lighthouse. That key will unlock the trap door."