Online:Caesina Fontius
The UESPWiki – Your source for The Elder Scrolls since 1995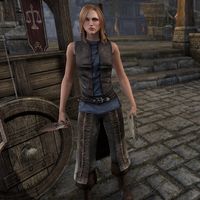 Caesina Fontius is an Imperial merchant who runs the Wonder Wagon in Kvatch.
She is proud of Kvatch and the holy knights of Akatosh that protect it, but expresses concerns that both the Order of the Hour and the city guard aren't making her feel as safe as they should. She also notices that the Order has been taking on Red Sails pirates through their roughness.
"I've always been so proud of the Order of the Hour. What other city has such holy and noble knights dedicated to protecting it?
But the newest members of the Order don't seem to be quite up to their usual standards. They seem a bit.. rough to me."
"As a merchant with a valuable stock, I depend on the common courtesy of my clients and the Kvatch Guard to keep my interests safe and secure. Lately, however, both the Guard and the Order worry me. They scare me when they're around."
"Have you heard about the latest murders? I wish the count would do something about these terrible crimes. It's getting so bad, it's starting to feel like Anvil and not the fair city of Kvatch that I know and love."