Online:Blight Bog Sump
The UESPWiki – Your source for The Elder Scrolls since 1995
Unmarked
Discoverable
No
Occupants
Krona, Ojei, Xul-Mot
Veeskhleel Alchemist, Veeskhleel Bodysnatcher, Veeskhleel Lurker, Veeskhleel Mirestalker, Veeskhleel Shadowshaper
Zone
Murkmire
Location
West of Bright-Throat Village
Loading Screen

Long, long ago, these caverns were the home of the Xuat-Matun tribe, and bore their name. But those Argonians are long gone, and the place is now a lair of the Veeskhleel: the Ghost People.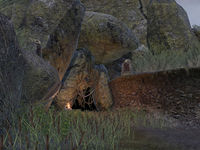 Blight Bog Sump is a set of caverns located in Murkmire. It is currently inhabited by the Veeskhleel, or the Ghost People. Once the home of the Xuat-Matun tribe, you will see numerous parts of the place that are named after the tribe. You will explore the cave together with Iskenaaz as you are helping the Bright-Throat tribe solve a mystery that is troubling their village. An Aberration from the Sump approaches Bright-Throat Village while you're exploring the dragonthorn glade with Iskenaaz.
Each of the three rooms that are separated from the main halls by a door contain a boss, which an NPC will help you fight. Chukka-Saak will join you during the fights against Ree-Nakal's experiments if you enter the boss rooms at any time while you're not doing the related quest, whether you've completed Empty Nest or not. During Empty Nest, Haxara will be the one to aid you.
Related Quests
[
edit
]
Residents
[
edit
]
So Much Wasted Potential, Development of the Hollow, and Tribes of Murkmire: Ghost People can be found in the very first room, which served as Ree-Nakal's laboratory.
Xuat-Matun, Worship Chamber
[
edit
]
Ojei resides here with several Veeskhleel Alchemists.
Xuat-Matun Council Chamber
[
edit
]
The Blackwater War, Volume 2 can be found at the entrance of the Council Chamber. Xul-Mot is located inside the chamber.
Xuat-Matun Audience Chamber
[
edit
]
Here, you will find Ree-Nakal and her finest creation: the Argonian Behemoth named Krona. Tlaiuhticah can be found cowering in the room ahead during Empty Nest.
Gallery
[
edit
]