Online:Beshari
The UESPWiki – Your source for The Elder Scrolls since 1995
Beshari
Home Settlement
Riverhold
Location
Outside Riverhold Stables
Race
Khajiit
Gender
Female
Health
39959
Reaction
Justice Neutral
Pickpocket
Medium
Profession
Soldier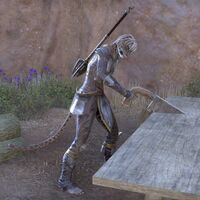 Beshari is a Khajiit soldier who can be found sharpening her weapons outside the stables in Riverhold.
Dialogue
[
edit
]
"Gharesh-ri may be our general, but on the battlefield? That's Captain Nala-do's domain. She leads every charge, make no mistake."
"We wouldn't have liberated Riverhold the first time without the leadership of Gharesh-ri. He has our loyalty and respect.
I suppose he gets that for being the Speaker of the Mane, too, but you get the idea."
"I wasn't sure about Khamira at first. She's so young! But she knows what she's doing.
Must be all the years of tutelage under Lord Gharesh-ri."
After the Battle for Riverhold, she will instead talk about that:
"Zumog Phoom! I hate him! He made me fight my own friends after they fell in battle. And then he raised them again!
Promise me you'll kill the bastard the first chance you get."