Online:Belarin
The UESPWiki – Your source for The Elder Scrolls since 1995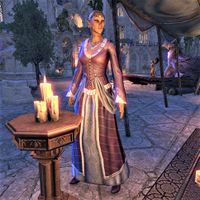 Belarin is an Altmer healer tending to the wounded in Cloudrest. She is the mother of Vandoril, who asks you to travel to the city to see if she's safe. She spends her time split between working at the Alchemy Station and seeing to her patients, Cemaria and Wailimo.
Related Quests
[
edit
]
Dialogue
[
edit
]
Speaking to her before starting Woe of the Welkynars:
"I'm sorry, but I have no time to speak at the moment. There are injured people here that require my assistance.
If you wish to help, go speak with Welkynar Olorime. She may have a task for you."
During Woe of the Welkynars:
After defeating Z'Maja:
"So you've defeated Z'Maja once and for all, I hear? Good.
Now Cloudrest can finally start to heal. Of course, I'm not going anywhere. There's always a need for a healer on hand."
Checking on Cloudrest
[
edit
]
"I'm not sure what's brought you to Cloudrest, but I have to recommend you turn back. The city is far too dangerous to enter. I'm busy enough as it is without more souls getting injured."
Your son Vandoril asked me to travel here. He believed you were in danger.
"Vandoril and his dreams again, is it? Well, he was right as usual.
A Sea Sload has attacked the city. Welkynar Olorime was able to rescue many, but I'm afraid not everyone is fit enough to evacuate. I must remain until the injured are cared for."
Is there anything I can do to help?
"I'd speak to Olorime, if you wish to help. She may have a task for you.
Don't worry about my son. I'll send a message with the next mer to evacuate. And here's a little something for your troubles, of course."
Speaking to her after completing the quest:
"Thank you for taking on my son's request. I'm afraid I hadn't even thought to contact him since the city was attacked. I've been far too busy helping the injured."