Online: Ashalmawia
The UESPWiki – Your source for The Elder Scrolls since 1995
"Among the ancient ancestral spirits who accompanied Saint Veloth and the Chimer into the promised land of Morrowind, the four Daedra Lords, Malacath, Mehrunes Dagon, Molag Bal, and Sheogorath, are known as the Four Corners of the House of Troubles."
Delve
Discoverable
Yes
Completion
Explore and Clear
Dungeon
Yes
# of Zones
1
Skyshards
1
Occupants
Harvester, Watcher
Ashalmawia Shrine:
Zylara
Sunken Vaults, Upper Level:
Galur Rithari, Dremora Hunterkyn, Dremora Kynlurker, Clannfear, Hunger, Scamp, Spider Daedra
Sunken Vaults, Lower Level:
Phobbiicus (Delve Boss), Worm Cult Assassin, Worm Cult Battlemage, Worm Cult Dreadmage, Worm Cult Necromancer, Worm Cult Reverent, Daedroth, Ogrim
Zone
Vvardenfell
Location
Northeast of Gnisis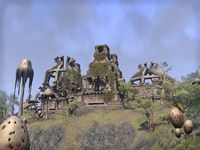 Ashalmawia is a delve found in the West Gash region of Vvardenfell containing Worm cultists.
Galur Rithari, a Dunmer vampire and former Buoyant Armiger, can be found here, seeking vengeance on the Worm Cult.
Related Quests
[
edit
]
Clearing the Dungeon
[
edit
]
Explore and clear Ashalmawia.
To clear this dungeon and mark it as complete, you need to kill the following bosses:
Quest-Related Characters
[
edit
]
Achievements
[
edit
]
There are two achievements associated with this location:
Gallery
[
edit
]