Online:Ascendant Order
The UESPWiki – Your source for The Elder Scrolls since 1995
To meet our site's higher standard of quality, this article or section may require cleanup.
The user who placed this here had the following concern:
article reads like an interview, Slavicsek quotes should be moved out of main body
To leave a message about the cleanup for this article, please add it to this article's talk page.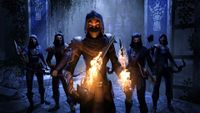 The Ascendant Order is a secret order of knights led by the Ascendant Lord, a mysterious force who threatens to disrupt peace talks for the ongoing Three Banners War and condemn Tamriel to endless conflict,[1] as part of their chaotic unknown motives.[2][3] The Ascendant Lord is described as an intimidating figure clad in dark steel armour from head to toe, seeking to claim an ancient legacy.[4] The Order has been generally non-hostile until their recent thwarts to disrupt peace talks between the Alliances, stealing a Society of the Steadfast master medallion and various others to curse them with fatal enchantments.
Their quest for a crownless utopia marks them as the kind of villainous organization that isn't one-dimensional, but staffed by people with real conviction in a lofty goal they see as just, and which other people concur with due to the fact they market themselves as people who are anti-violence in Tamriel. According to Slavicsek, the Ascendant Order has "what they consider to be a noble purpose... it's just a matter of how you interpret what they're doing." Leamon Tuttle went on to describe the Ascendant Order as "a pan-Tamrielic movement", not a group restricted just to High Isle.[5]
As they are Breton-influenced, they liken themselves to a Knightly Order, though most of the other Orders think of them as a rogue order of well-armed fanatics. Slavicsek said, "They don't reveal their identities, they wear their helmets all the time, and in some ways, they act like terrorists as they try to go about achieving their goals. They have what they consider to be a noble purpose... it's just a matter of how you interpret what they're doing and the fallout it causes."
"That's actually a good thing, right? We want to end the war," Slavicsek says. "It's a matter of how they go about doing it that becomes the driving force of the story. And their leaders — we've got a few of them that you'll meet across the length of the story — are these individuals that at least on the surface have noble goals and believe in things that most of the common folk of Tamriel would probably support until people start dying."[6]
Members
[
edit
]
Named Members
Generic Members
Pet Minions
Related Quests
[
edit
]
Locations
[
edit
]
Gallery
[
edit
]
Captain Kaleen pokes fun at the recurring motif of a secretive evil cult in every chapter when you ask her about the Abyssal Cabal, saying she can't be bothered to tell the difference and an "Average Assembly" should be thrown in for good measure.
Some files refer to the group as the "Scribes of Truth", suggesting this was their original working name.
See Also
[
edit
]
Other antagonistic cults tied to main story arc questlines and world events include:
References
[
edit
]
Alliances
Joinable NPC Guilds
Minor NPC Factions