Online:Anginil
The UESPWiki – Your source for The Elder Scrolls since 1995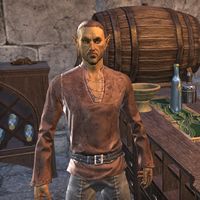 Anginil is an Altmer chef who works at The Gilded Fork in Alinor.
Dialogue
[
edit
]
When speaking with non-Altmer characters, he will constantly act snide:
"Do you mind stepping back a few paces? You have a distinct odor that might make my everfresh bread loaf wilt in an unpleasing fashion. I'm sure you understand."
"Before you get too comfortable, I don't serve any of that strange, foreign food here. Nothing but traditional Altmer fare prepared in the traditional Altmer fashion.
If that suits your needs, then we can do business."
"Another bit of driftwood tossed up from the sea …. I suppose you heard that I am the greatest chef in all of Alinor? That the Proxy Queen herself loves my peacock confit?
No? Well, if you were a High Elf, you'd be impressed by my credentials."
If the player is an Altmer, he will be considerably more friendly, while still disparaging newcomers:
"Finally, someone with discriminating tastes and a palate worthy of my masterful cuisine creations!
Just between us, I had an Orc stop by who had absolutely no idea what to do with one of my delectable meat pasties."
"With all the newcomers filling the streets, I'm glad to see an Altmer grace my establishment. Can I tempt you with a High Elf delicacy?
One of those Nords had the nerve to say that my century soup had spoiled. It's supposed to taste that way!"