Online:Alexia Floria
The UESPWiki – Your source for The Elder Scrolls since 1995
Alexia Floria
Home City
Kvatch
Race
Imperial
Gender
Female
Health
25974
Reaction
Justice Neutral
Pickpocket
Hard
Profession
Smith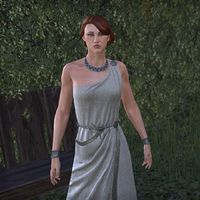 Alexia Floria is an Imperial smith who can be found in Kvatch outside the hedge maze west of Catina's House. She lost track of her husband, Plautus, while they were exploring the maze and she hasn't come back. As it turns out, Plautus is on the other end of the maze and thinks Alexia has gotten lost herself.
Dialogue
[
edit
]
She begins by saying one of these lines:
"By the Eight ... where could he be?"
"He should have been here hours ago!"
"Plautus, you fool .... What have you gotten yourself into?"
You can then ask her what's wrong:
What's the problem?
"It's my husband, Plautus. He dragged me into that hedge maze then wandered off like an idiot. Now he's lost in there."
Are you sure he's still in there?
"Oh, definitely. Plautus can barely find his way out of a baggy shirt. I thought it was his eyesight at first, but now I think it's some kind of mental block. I'll have to buy him a spotting hound or something ...."
Have you gone in to look for him?
"What? You think I'm going back in there? No, no. I'm not his nursemaid. He'll have to find his own way out. It's good for him ... I guess. Builds character and all that. He'll figure it out. Eventually."