Online:Alchemical Analysis
The UESPWiki – Your source for The Elder Scrolls since 1995
| | | | | |
| --- | --- | --- | --- | --- |
| | | Deliver a mysterious metal ore to an alchemist. | | |
Jomund and his miners have no idea what to make of the mysterious metal they found. However, Jomund has a friend at Fort Amol who might be able to help.
Quick Walkthrough
[
edit
]
Talk to Jomund Snowmead.
Find Aleeto's missing items.
Return to Aleeto.
Detailed Walkthrough
[
edit
]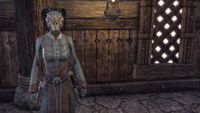 Jomund continues from the previous quest.
"I'm almost sorry we discovered that mysterious metal. I don't know what to do with it, but I don't want King Jorunn's enemies to have it, either.
A friend of mine at Fort Amol might be able to tell us more about the metal."
Do you want me to take the ore to Fort Amol?
"That would be extremely helpful. The Argonian, Aleeto, is an alchemist. She tinkers with metals and crystals and dabbles in all kinds of magic. She'd be able to identify the metal.
You can find her in the Alchemist Shop in Fort Amol."
I'll take the ore to Aleeto.
Go to Fort Amol. You'll find Aleeto in her store, The Uncanny Alembic. She seems intrigued by the metal and asks you to collect a few items for her. First is the Varla Stone Tincture, which is on a bookshelf across the room. It explodes when you pick it up, but no harm is done. After giving her the tincture, she asks you to also retrieve a book she was reading called Treatise on Metallurgical Anomalies. Aleeto left the book on a small island in the White River, just north of the fort. Collect the book and return to her.
She excitedly begins experimenting, resulting in a small explosion. She is interested in continuing her research, and rewards you with her gloves and a bit of gold.
Quest Stages
[
edit
]
Alchemical Analysis
Finishes Quest
Journal Entry
Jomund asked me to take the ore to an alchemist named Aleeto in Form Amol

Objective: Find the Alchemist Shop in Fort Amol

Aleeto is an alchemist with an interest in crystals and metals. I should see if she can tell me anything about this unusual ore.

Objective: Ask Aleeto to Examine the Ore

While Aleeto studies the unusual ore, she asked me to bring her the Varla Stone tincture from the other side of the shop.

Objective: Get the Varla Stone Tincture

I found the tincture. I should give it to Aleeto.

Objective: Give the Tincture to Aleeto

Aleeto wants me to retrieve a book on metallurgy she left near the river. It might shed light on the mysterious metal.

Objective: Find Ovuld's Study of Metallurgic Anomalies

I found the book Aleeto left outside. I should return it to her.

Objective: Return Ovuld's Book to Aleeto

Aleeto is going to conduct some kind of experiment on the ore. I should stand back and watch this time.

Objective: Observe the Experiment

Aleeto finished her experiment. I should ask her what she learned about the mysterious ore.

Objective: Talk to Aleeto