Online:Aide Pideelus
The UESPWiki – Your source for The Elder Scrolls since 1995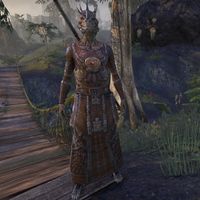 Aide Pideelus is an Argonian found in the city of Stormhold.
Dialogue
[
edit
]
Before discovering the source of the murders in Stormhold:
Afterwards:
"First, Argonians and Dunmer disappear. Now a vicecanon goes missing?
The other vicecanons can't ignore this."
What can you tell me about Stormhold?
"Ah, Stormhold! This was our home until the Dunmer … oppressed us. Now it is not a proper Argonian town, not like it once was.
Still, it is a good place for Shadowfen's vicecanons. Here, they can deal with all kinds and still live in comfort."
Who are the vicecanons? What do they do?
"How to say? They … oversee Shadowfen. Two were heroes in the Akaviri war: Vicecanon Servyna from Morrowind and Vicecanon Heita-Meen from Black Marsh.
Gerent Kaild is from Skyrim. He replaced Vicecanon Hrondar. He is new, so I cannot tell you about him."