Online:Aicessar
The UESPWiki – Your source for The Elder Scrolls since 1995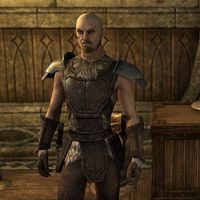 Aicessar is an Altmer and the hall steward of both the Fighters Guild branch in Vulkhel Guard and the branch in Shimmerene. He is also in charge of recruitment on Vvardenfell, and is located at St. Delyn's Canton. When first spoken to, he will invite you to join the Fighters Guild.
Related Quests
[
edit
]
Dialogue
[
edit
]
"Welcome to our hall. Are you familiar with the Guild?"
The guild?
"The Fighters Guild! You should consider joining up! We have a new Guildmaster, and a new singular purpose. Why don't we talk for a moment?"
Sounds good, let's talk about the Fighters Guild.
"Excellent! I know we'll all be drawing blades together soon enough. Now, what can I tell you?"
You mentioned a singular purpose?
"Right! Our new Guildmaster is an Argonian, Sees-All-Colors. She has us all hunting down the Daedra and their damned Anchors. You might have seen them. Enormous chains, plagues of Daedra boil out to lay waste to the countryside? Hard fights."

What do I get in return?

"Hah! Yes, good question. We train our members in special techniques. And the higher-ups are always looking for motivated members to help with special projects. You never know, you might be the next Jofnir!"

What happened to the old Guildmaster?

"Guildmaster Jofnir passed away recently, very suddenly. I always thought he'd die with a blade in his hand. But he passed away in his sleep, called to Sovngarde by his ancestors. We all miss him, but Colors has proven to be a very able leader."

You're not part of the Dominion military?

"No, we only draw blades in service to the guild. We're technically neutral in the war between the three Alliances. We love the Eagle banner and Her Majesty, of course. But every race, every creed, belongs under the Guildhall's roof."

I'm ready to join the Fighters Guild.
"Then let me be the first to officially welcome as an Associate of the Fighters Guild! Get out there and take the fight to the Daedra! You're in luck, comrade. Sees-All-Colors herself is here today. Why don't you go introduce yourself?"
If you did not join the Guild immediately, he'll ask you again when you speak to him next time:
"What do you say, recruit? Have I convinced you? Are you ready to join the fight?"
I want to join the Fighters Guild.
After joining the guild, he will greet you with:
"Ahh, it's my comrade in arms! Welcome back to the hall!"
"Comrade! It is good to see you."