Online:Acolyte Alurue
The UESPWiki – Your source for The Elder Scrolls since 1995
Acolyte Alurue
Home Settlement
Suran
Location
Suran Temple
Race
Dunmer
Gender
Female
Health
25974
Reaction
Justice Neutral
Pickpocket
Medium
Profession
Priest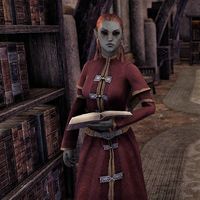 Acolyte Alurue is a Dunmer priest who can be found at the Temple in Suran.
Dialogue
[
edit
]
Alurue has some interesting ideas as to the identity of the mysterious Scarlet Judge:
"Everyone tries to guess the identity of the Scarlet Judge. But those of us immersed in the mysteries of the Tribunal know the truth."
What truth?
"The Scarlet Judge is obviously our Lord Vivec! Only one of our Living Gods could accomplish what the Scarlet Judge has done."
Isn't Vivec busy with his city?
"Vivec is the god of justice for all Dunmer, not only those in Vivec City! And the sermons speak of the Warrior-Poet splitting his mind into many bodies. He can oversee the city and dispense justice in equal measure."
Then why the disguise?
"Lord Vivec is a poet as well as a warrior. He knows the value of legends and the utility of a subtle touch. It doesn't serve his purpose to make us dependent on divine intervention."