Online:A Goblin's Affection
The UESPWiki – Your source for The Elder Scrolls since 1995
This page is currently being rewritten as part of the Online Quest Project.
The page is being both written and checked. All users are welcome to make changes to the page. If you make a change that is relevant to the project, please update this template accordingly, and make sure you have observed the project guidelines.

While attempting to test a new spell, Denthis Romori transformed his brother, Dithis, into a female Goblin. The Goblin lass has been kidnapped by a local Goblin warlord named Chieftain Grimmstal.
Quick Walkthrough
[
edit
]
Speak to Valdam Andoren.
Kill Chieftain Grimmstal.
Rescue and speak to Dithis Romori.
Return to Valdam for your reward.
Detailed Walkthrough
[
edit
]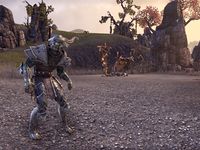 Near the Ashen Road Wayshrine (map), Valdam Andoren will say "My apprentice thinks he's the arch-mage of a college.".
"Strange meeting you out here in the wilds. After Davon's Watch, I hadn't expected to see you again.
If I might say it, another ... minor issue has arisen."
What's happened?
"He thinks he's a magical genius. To prove a point, he's transformed his brother into a Goblin ... a lady Goblin.
The chieftain of the nearby Shadowsilk tribe has taken him prisoner. He has every intent of taking Dithis as his tribal matron."
How can I help?
"I've created a refined Spell Gem that should allow you to slip into the camp. Just be wary. The spiders guarding the Goblins will not be fooled.
Assault Chieftain Grimmstal and return Dithis to us safely, if you would be so kind."
I'll save Dithis from his impending ... marriage.
He gives you the Shadowsilk Gem, a disguise that turns you into a goblin and cause the members of the tribe (besides the Spider sentries) to not notice you.
You must go to the Shadowsilk Goblin Camp and kill Chieftain Grimmstal, then speak to the tied-up Dithis. He will thank you for saving him and run back to the Wayshrine.
"You're not with the tribe, are you? Help me!"
How did they capture you?
"Denthis was just showing me how the spell works. Then the Shadowsilk tribe jumped us. They carried me off as a tribute for Grimmstal.
Enough talk. Get me out of here!"
Let me untie you.
You must then return to Valdam Andoren, who thanks you for help and rewards you with a set of gloves and some gold.
"And Dithis has returned. Unharmed, from the looks of his green skin."
Happy to help, Master.
"I hope these two have learned from their mistakes. Spellcrafting is not to be taken lightly. Like a Goblin's heart, apparently."
The Shadowsilk Goblin mount animation issue was first reported as fixed on Patch 1.3.5.
Quest Stages
[
edit
]
A Goblin's Affection
Finishes Quest
Journal Entry
Chieftain Grimmstal intends to take the transformed Dithis as his Goblin matron. I must defeat the warlord to save this unfortunate event.

Objective: Defeat Chieftain Grimmstal

Objective: Free Dithis Romori

Now that I saved Dithis, I should return to the other mages and give them the good news.

Objective: Talk to Valdam Andoren