Online:"Shady" Syron
The UESPWiki – Your source for The Elder Scrolls since 1995
"Shady" Syron
Location
Docks southwest of Murcien's Hamlet
Race
Redguard
Gender
Male
Health
39959
Reaction
Justice Neutral
Pickpocket
Hard
Profession
Outlaw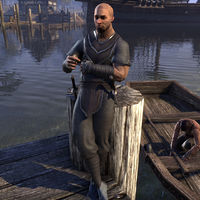 "Shady" Syron is a Redguard outlaw who can be found at the docks southwest of Murcien's Hamlet. He offers a boat ride to Blackheart Haven.
Dialogue
[
edit
]
"Hey there friend. I have a secret, if you promise not to tell, I'll let you in on it."
Sure, I won't tell.
"Good! I know where Blackheart Haven is. Saw it on my last trip out. Be damned tough to get in there I suspect but I think I could probably do it."
What is Blackheart Haven?
"Eh? You don't know about the haven? What kind of a sailor are you? It's the privateer city, the black heart of the sea, home to Captain Blackheart himself. People been looking for it as long as I can remember and I found it, by accident even."
Can you take me there?
"I suppose so. Promise me you're not out to join that bunch of sea wretches though. They're a horrible lot and I won't be party to helping them. You got it? If you're going, you're going to rob them blind or put a dagger in them."
That sounds fair.
"Go ahead and use the boat behind me. I'll get you there."
Once Jumping Ship has been completed:
"Good job in Haven my friend. That'll make these seas safe for once."