Oblivion:The Market Sewers
The UESPWiki – Your source for The Elder Scrolls since 1995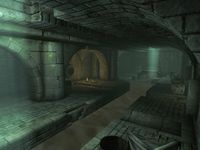 The Market Sewers are a small sewer system under the Imperial City Market District containing bandits. It contains only one zone, The Market Sewers.
Zone 1: The Market Sewers

[

edit

]
The easiest way to enter this zone is through the door Out from the Market District. However, until the sewer Gate (E) has been opened from the other side, this entrance does not provide any access to the rest of the sewer system. Most characters are likely to enter this sewer system through door D from The North Tunnel, but it is possible to enter through any of doors C through G.
Other than the gate at E and the numerous bandits, there are few obstacles in the zone. Several of the chests in this sewer system are semi-hidden in corners. For example, the boss chest (B) is behind a barrel and some crates. The boss chest is of interest not only for the treasure, but also for the key that opens the door (I) to Beneath the Bloodworks.
Occupants:
Treasure:
1 Chest (contains The Bloodwork's Sewer Key, loot similar to boss-level bandit chest: 1-2 plain light armor, 1 plain weapon, 10% chance enchanted armor, 25% enchanted weapon, etc.) at location B on map
2 Chests 01 (1 locked)
3 Chests 02 (2 locked)
1 Chest 04
Doors and Gates:
There are six doors in/out of this zone
1 Gate (at E), opened by a Turn Wheel north of the gate (cyan dot) on map. This gate can only be opened from the north side; it cannot be opened from the south side.
1 Gate (at G), opened by two Turn Wheels (cyan dots), one on either side of the door.
Other:
7 bedrolls at locations b on map
Gallery
[
edit
]