Oblivion:The Fo'c's'le
The UESPWiki – Your source for The Elder Scrolls since 1995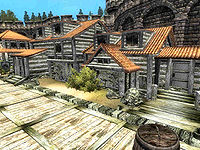 The Fo'c's'le is an inn located on Anvil's waterfront. It is found by the ship, The Sea Tub Clarabella and next to the Harborside Warehouse.
The publican, Mirabelle Monet, isn't available for any bartering service and only rents rooms to sailors. However, she does offer advanced Sneak training. The main reception area is on the ground floor while the rooms are upstairs.
Unfortunately, there is no accommodation for you here: the Fo'c's'le is reserved as "a boarding house for sailors", as Mirabelle puts it. The four rooms on the second floor are usually occupied by the lodgers. Even when they are not occupied, it is considered trespassing to enter and therefore you cannot sleep in the beds.
* Hauls-Ropes-Faster is defined as an advanced trainer but his AI packages do not allow him to offer these services.
Mirabelle doesn't only rent beds to sailors, she also shares them with her lodgers. This has led to some rumors in Anvil:
"Mirabelle Monet is quite a woman. Ask any of the sailors down at the Fo'c's'le."
"I've heard that Mirabelle spends a lot of time with the sailors. A lot of personal time with them..."
"Mirabelle Monet runs quite a boarding house. I understand all of the sailors leave very satisfied."
The word Fo'c's'le is a truncated form of "Forecastle", traditionally the living quarters of sailors aboard a sailing ship.
There are two handbills advertising the inn. One reads: "A night at the

Fo'c'c'le 

[sic] is a night you'll never forget. Our tea and crumpets taste better and last longer than any in Anvil. And there is always a wench to keep you company." The other reads: "The Fo'c's'le features warm beds and great company. Our tea and crumpets taste better and last longer than any in Anvil. The serving wenches are always available for conversation."