Oblivion:Necromancer's Amulet
The UESPWiki – Your source for The Elder Scrolls since 1995
Leveled Artifact: Necromancer's Amulet

(

00

07BE2B

)


(All statistics are for level 25+ version)
(lore page)
Type
Amulet
Editor ID
MGNecromancersAmulet25
Statistics
 Weight
0.4
 Value
0
Enchantment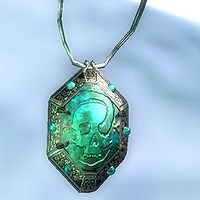 The Necromancer's Amulet is encountered during The Necromancer's Amulet quest, but it must be given up at the end of the quest and cannot subsequently be retrieved. It is an artifact that has appeared in previous Elder Scrolls games.
Leveled Statistics
[
edit
]
Level
Effects
1-4
00

0146C6

0.4
0
Drain Strength 10pts
Drain Endurance 10pts
Fortify Willpower 4pts
Fortify Intelligence 4pts
Fortify Conjuration 2pts
Fortify Magicka 30 pts
5-9
00

07BE27

0.4
0
Drain Strength 13pts
Drain Endurance 13pts
Fortify Willpower 6pts
Fortify Intelligence 6pts
Fortify Conjuration 4pts
Fortify Magicka 50 pts
10-14
00

07BE28

0.4
0
Drain Strength 16pts
Drain Endurance 16pts
Fortify Willpower 8pts
Fortify Intelligence 8pts
Fortify Conjuration 6pts
Fortify Magicka 70 pts
15-19
00

07BE29

0.4
0
Drain Strength 19pts
Drain Endurance 19pts
Fortify Willpower 10pts
Fortify Intelligence 10pts
Fortify Conjuration 8pts
Fortify Magicka 90 pts
20-24
00

07BE2A

0.4
0
Drain Strength 22pts
Drain Endurance 22pts
Fortify Willpower 12pts
Fortify Intelligence 12pts
Fortify Conjuration 10pts
Fortify Magicka 110 pts
25+
00

07BE2B

0.4
0
Drain Strength 25pts
Drain Endurance 25pts
Fortify Willpower 14pts
Fortify Intelligence 14pts
Fortify Conjuration 12pts
Fortify Magicka 130 pts
The only version of the amulet that appears in the game is the level 25+ version, unless the Console is used to generate the others. See the quest page for more details.