Oblivion:Ilav Dralgoner
The UESPWiki – Your source for The Elder Scrolls since 1995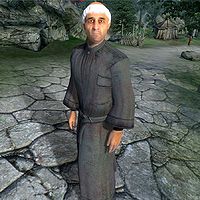 Ilav Dralgoner, a disillusioned Imperial priest, is one of the refugees of Kvatch. He is found just north of the refugee camp, wandering aimlessly around.
He wears some grey robes and carries a torch and some gold. He wanders barefoot around the bottom of the road leading up to Kvatch, never even eating or sleeping.
All of the spells that Dralgoner can cast are level-dependent. Specifically, he can cast minor Destruction spells and major spells from the Alteration, Mysticism, and Restoration schools of magic.
When you approach him, it becomes apparent he has lost his faith: "Hope is gone. The Imperial line is dead. The Covenant is broken. The Enemy has won." When asked about the Covenant, Ilav will repeat, "The Imperial line is dead, and the gods have forsaken us. Where is our blessing? Where is our protection? Where are our gods? The Enemy triumphs, and we die alone." He will also tell you about the Enemy, revealing a bit of insight: "Lord Dagon is the Enemy. He is the Prince of Destruction, and the Daedra are his servants. The Chapel is cast down, and the faithful... my friends... all dead. The Enemy has won, and we are destroyed." On subsequent meetings, the sad priest will greet you with, "Why have our gods forsaken us?"