Oblivion:Gaturn gro-Gonk
The UESPWiki – Your source for The Elder Scrolls since 1995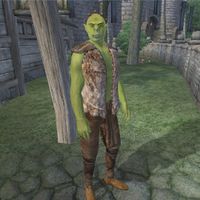 Gaturn gro-Gonk is an Orc barbarian who lives at The Grey Mare in Chorrol.
He sleeps in the inn from midnight to 6am then slouches around the inn for four hours. At 10am he heads out, searching for Malintus Ancrus, who is usually to be found in his house on the other side of town. After he finds him, Gaturn heads back to the inn and eats a late lunch for two hours at 2pm. Apart from another two-hour meal break at 8pm, he spends the rest of the day in the inn.
Gaturn isn't the friendliest character and will greet you by commenting, "Well, ain't you the high-tom-titty? You want something, I guess, or you wouldn't be messing up my air." If you ask him about Chorrol, you will learn that some of his grumpiness comes from his history with the Fighters Guild: "Yeah. I used to be Fighters Guild here in Chorrol, but I done some incarceration for Trespassing and Theft. Couple of times. You know, they kick you out of the guild if you get caught doing some incarceration. How many? I forget. But I did a lot."
He wears a lower-class outfit of huntsman leather pants with vest and moccasins and carries a small amount of gold.
There are only three beds in the Grey Mare, but four NPCs who try to sleep in them. Sometimes Gaturn will be the odd one out and will be forced to spent the night staring enviously at one of the characters who managed to grab a bed.
Gaturn's 10am package to go and find Malintus Ancrus is called "GaturngroGonkVisitMurgakhgroUshag10x0", suggesting that he originally visited a fellow orc by the name of Murgakh gro-Ushag.
It seems that Gaturn was an early character added to Chorrol, as he still has a script that refers to the time when Chorrol had an arena. A comment at the top describes a variable that was to determine his AI behavior based on his luck at betting: 1 - Gaturn lost gold betting at Arena today [set in results]; 2 - Gaturn won't talk about Chorrol for a day; 3 - Gaturn won gold at Arena today; 4 - Gaturn offered you a drink; 5 - Gaturn goes hunting [set in results]. Additionally, there is an unused AI package called "GaturngroGonkArenaGallery16x4".