Oblivion:Fort Nomore
The UESPWiki – Your source for The Elder Scrolls since 1995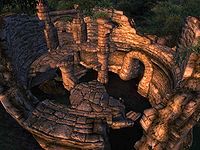 Fort Nomore is a medium-sized fort between Bravil and Leyawiin containing monsters. It contains two zones: Fort Nomore and Fort Nomore Bunker.
Exterior
[
edit
]
The exterior is located at coordinates: Tamriel 20, -20
This location's map marker (M on map) is named Fort Nomore (editor name FortNomoreMapMarker). The entrance door is WNW of the marker, 100 feet away.
0-1 Monster is near the entrance
1 Road Creature (Swamp variety) is near the entrance
1 Wilderness Chest 02 (non-respawning) is near the entrance
The other following items can be found near the entrance: 2 Flawless Diamonds, 3 Gold Nuggets, and 1 Major Wound scroll
The following plants can be found near the entrance: 18 Clouded Funnel Cap plants, 7 Domica Redwort plants, 5 Somnalius plants, and 7 St. Jahn's Wort plants
Some of the above items are clustered at location C: 1 Major Wound scroll, 2 Flawless Diamonds, and 3 Gold Nuggets
Directly above the 1 Wilderness Chest 02 (non-respawning), there is an archway, where the items clustered at location C can be found.
Zone 1: Fort Nomore

[

edit

]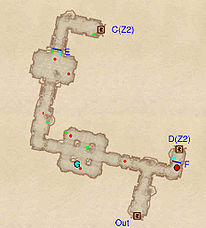 Fort Nomore contains a fair share of monster opposition, but the chests inside make it well worth exploring. Shortly after entering the fort, you will be presented with an intersection. Heading right will lead you to a possible encounter with an Orc Adventurer at O and a gate at F that is opened by pulling a lever on the other side (cyan dot on map). This will serve as a quick exit when you leave the next zone through door D. Heading left at the intersection will take you down a short passageway guarded by one foe. You will quickly reach a larger room containing two enemies, a dead bandit at G, and two unlocked chests; the chest located near some skeletons contains minor loot while the other chest holds potions. Proceed ahead heading north through a hallway that contains a minor loot chest that may be guarded by a foe patrolling the area. You will eventually reach a chamber guarded by two foes; after taking care of them, pull the lever (cyan dot on map) to open gate E and obtain the loot from the locked chest to the left of this lever. Continue forward to reach door C and a chest. After looting the potions from the chest, enter door C to reach the next zone, Fort Nomore Bunker.
Occupants:
1 Orc Adventurer (10% chance of appearing) at location O on map
5 Monsters
0-1 Monster Enemy (each 80% probability Monster, 20% Rat)
Treasure:
Doors and Gates:
There are three doors in/out of this zone
2 Portcullis Gates at E and F. When you first enter the Fort, door D cannot be accessed as gate F can only be opened from the inside, using a lever. Door D serves as a quick exit from Fort Nomore Bunker.
Other:
1 Dead Bandit (wearing light boots and cuirass, 25% chance poison) at location G on map
Zone 2: Fort Nomore Bunker

[

edit

]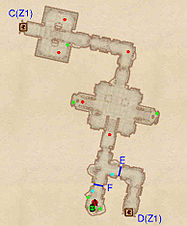 This area is just as linear as the first section of the fort, but continued monster opposition will make exploration somewhat difficult. This zone greets you with a chamber containing two foes who are located in the elevated part of the room near the entrance; be sure to loot the potions from the chest in the southern part of the room. Head down the steps and through an old wooden door to reach a small passageway guarded by a single opponent. After heading through another door, you will find yourself in a large room that contains two foes and an equal number of chests; both chests contain some loot, but the chest in the eastern part of the room is locked. After heading up the steps and south through the door, you will reach an intersection with both paths blocked by gates; pull the lever (northern cyan dot on map) to open gate F to reach the boss-level monster at A. After defeating this enemy, loot the boss-level chest at B along with the potions from the unlocked chest and the minor loot from the locked chest. Pull the lever located in this room (southern cyan dot on map) to open gate E and head down a short hallway to reach door D, which will take you back to the first zone. From there, you will be the pull of a lever away from where you first entered the fort.
Occupants:
1 boss-level Monster at location A on map
5 Monsters
Treasure:
Doors and Gates:
There are two doors (at C and D) in/out of this zone, both leading to the zone Fort Nomore
2 Portcullis Gates at E and F