Oblivion:Demetrius
The UESPWiki – Your source for The Elder Scrolls since 1995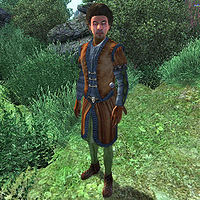 Demetrius is a Redguard commoner who is a devout worshipper of the Daedric prince Meridia and can be found with his fellow worshippers Javolia Maborel and Basil Ernarde at the Shrine of Meridia.
Demetrius, like most devout Daedra worshippers, spends day and night worshipping at his Prince's Shrine. He pays his respects to Meridia by either kneeling in front of the Shrine or the three lit candles, stretching his arm towards the sky or by sitting in silent prayer on one of the benches.
He wears a russet felt outfit and quilted shoes and carries burgundy linens. In combat, he relies on an iron dagger. He also carries a few gold coins.
He clearly follows the teachings of Meridia: "All things speak with the voice of life... even the bones of the earth." He refuses to say anything else after this, ending any conversation after saying this line.