Oblivion:Coast Guard Station
The UESPWiki – Your source for The Elder Scrolls since 1995
Console Location Code(s)
LeyawiinCoastGuardStation
Region
Blackwood
Location
Leyawiin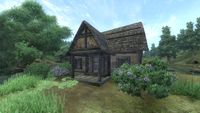 Coast Guard Station is a house located northeast of Leyawiin, where the Topal Bay meets the Lower Niben.
Though strategically located where the Lower Niben meets Topal Bay northeast of Leyawiin, the dock is the station's only evidence of activity. The sole inhabitant, Captain Decentius Opsius, merely patrols the premises, rambling about Torval the Pilot if approached. During Permanent Retirement, retired Imperial Legion commander Adamus Phillida visits every day from 10am to 1pm with a bodyguard.
The front door is always locked, so pick open the lock or steal the key from Decentius. The interior echoes the exterior, as it is messy and lower-class, although an impressive array of tapestries line the walls. The alcove next to the entrance contains a locked chest with a chance of some minor loot or gold and a set of wooden shelves holding a watermelon and a sack with clutter. Both are safe for storage. Some food can be found in the eastern part of the dining area, including eight ears of corn, two heads of lettuce and twelve tomatoes in a basket. There are two cupboards as well, one with food and one with clutter. At the other end of the room sits a locked, non-respawning, armory chest, two crates, a sack holding clutter and a pumpkin. The small bedroom contains a single bed, some spare lower-class clothing scattered around and another locked chest containing only clutter. The two drawers at the foot of the bed holds more cheap clothing, and a copy of On Morrowind can be found atop the easternmost drawers.
† Adamus and his bodyguard only appear during Permanent Retirement.
Dead Drop Orders 8, obtained during the Dark Brotherhood questline, states that there is a sack containing the next dead drop orders and a reward under the bed. However, the sack is not there at any stage, presumably because the traitor was caught.