Oblivion:Abandoned Mine
The UESPWiki – Your source for The Elder Scrolls since 1995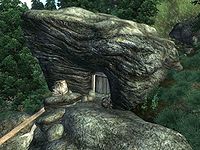 Abandoned Mine is a medium-sized mine far east of Bravil containing bandits. It contains two zones: Abandoned Mine and Abandoned Mine Caverns.
This mine contains 2 Cairn Bolete plants.
The first part of this mine is quite rich in veins: five silver veins and three rare gold veins.
Exterior
[
edit
]
The exterior is located at coordinates: Tamriel 47, -4
This location's map marker (M on map) is named Abandoned Mine (editor name AbandonedMineMapMarker). The entrance door is W of the marker, 30 feet away.
2 Wilderness Creatures (Valley variety) are near the entrance
The following plants can be found near the entrance: 38 Foxglove plants, 5 Green Stain Cup plants, 13 Monkshood plants, 2 Motherwort plants, and 8 Summer Bolete plants
Zone 1: Abandoned Mine

[

edit

]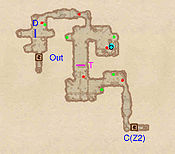 The entryway of the Abandoned Mine is small and claustrophobic, with little room for movement and little space for exploration. Dispose of the sole enemy guarding the first wooden structure, claim the loot from the locked chest, then push the loose planks at D three times to gain access to two barrels. Follow the path as it bends and keep an eye out for the many silver and gold veins of the mine. Pry open the potion chest near the bedroll at b and locate another chest in the opposite side of the room. Head south and be prepared for a Falling Log Trap (T) that will trigger when you approach. In the next room, kill the lonely enemy and proceed in a western direction, on your way claiming the loot from two chests. Exit the zone via door C, which leads to Abandoned Mine Caverns.
Occupants:
Treasure:
Traps:
1 Falling Log trap at location T on map

There is no physical trigger for the Falling Logs; they will fall once you have reached proximity.
Doors and Gates:
There are two doors in/out of this zone

1 door (at Out) leads outside
1 door (at C) leads out of dungeon to Abandoned Mine Caverns

1 Break-away wall ('Push Loose Planks') at D
Other:
1 bedroll at location b on map
Zone 2: Abandoned Mine Caverns

[

edit

]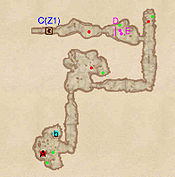 The Abandoned Mine Caverns are almost entirely consisted of wide, open corridors. Enemies are also spaced to the effect that, if you are careful in your combat range, they can be individually defeated without drawing attention from others. It is entirely linear as well, so simply make your way through the tunnels and jump over an easy-to-spot Tripwire trigger at D, keeping the two Swinging Maces at E attached to the ceiling. Loot the chests you encounter along the way and pass through two wooden doors until you reach the final large room for an encounter with the boss-leveled Bandit at A. Pick up the minor loot from the two chests and backtrack all the way to door C, leading back to Abandoned Mine.
Occupants:
1 boss-level Bandit at location A on map
3 Bandit Enemies (each 50% probability melee , 25% archer Bandit, 12% Dog, 12% Nuisance Animal)
Treasure:
Traps:
Doors and Gates:
There is one door (at C) in/out of this zone, leading to the zone Abandoned Mine
Other:
1 bedroll at location b on map