Morrowind:Traven Marvos
The UESPWiki – Your source for The Elder Scrolls since 1995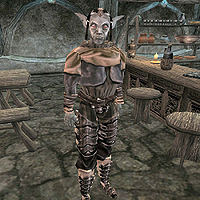 Traven Marvos, a Dunmer rogue, is a Retainer for the House Hlaalu. Traven Marvos can be found at Eight Plates in Balmora, where he offers minor training in Short Blade, Light Armor, and Axe.
Traven wears a common shirt with matching pants and netch leather greaves with matching boots. He carries a silver war axe and some common shoes. Aside from his natural resistance to fire and the sanctuary provided by his ancestors, he knows no spells.
If you ask him about some of the latest rumors, he will say: "Been hearing voices at night. Do you?"