Morrowind:Socucius Ergalla
The UESPWiki – Your source for The Elder Scrolls since 1995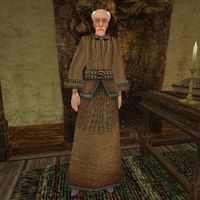 Socucius Ergalla, a Breton agent, is the chief agent of the Seyda Neen Census and Excise Office. In addition to helping you at the beginning of the game to select your character's class and determine which sign your character is born under, Socucius provides you with your release papers, which you must give to Sellus Gravius before you can leave. Socucius is also interested in the whereabouts of a missing tax collector, Processus Vitellius, and will offer medium training in Acrobatics, Light Armor, and Sneak.
He wears a common robe and shoes. He also carries a small amount of gold and a steel shardblade with him. Aside from his natural bonus and resistance to magicka, and his ability to shield himself for short periods, the only spell he knows is Crying Eye.
Related quests
[
edit
]
Dialogue
[
edit
]
Voice:

"Ahh yes, we've been expecting you. You'll have to be recorded before you're officially released. There are a few ways we can do this, and the choice is yours."
"Very good. The letter that preceded you mentioned you were born under a certain sign. And what would that be?"
"Interesting. Now before I stamp these papers, make sure this information is correct."
"Show your papers to the Captain when you exit to get your release fee."
"Take your papers off the table and go see Captain Gravius."
---
Imperial Legion: "The Imperial legion provides security for the Census and Excise Offices here in Seyda Neen. The troopers you see here are assigned to guard duty here. And the troopers outside, in Seyda Neen, they're guards -- officers of the law."
Law in Morrowind: "Theft, Trespass, Assault, Foul Murder, and Contempt are serious crimes; criminals pay compensation or serve sentences of punitive labor. If you commit a crime, turn yourself in to any guard and pay your fine. Here in Seyda Neen the guards are all Imperial legion troopers. In other towns, they may be local Great House guards."
Morrowind: "Yes. This is Morrowind. You're in the Census and Excise Offices in the port of Seyda Neen, in Vvardenfell District of the province of Morrowind."
murder of Processus Vitellius

"Murdered you say? He has been missing for a while. I'll need proof of that before I begin an official inquiry, though"(if you haven't found Processus' corpse)
"Murdered? What a waste. Processus was a good man. I had been wondering why we hadn't heard from him in a few days. Still, these are dangerous times we live in, and these sorts of things will happen. did you happen to find the tax money he'd collected?"
Yes, I found 200 septims on his body.

[200 Gold has been removed from your inventory] "You did? How odd that he was murdered but not robbed. Your honesty is appreciated. I can tell you that I won't forget this, %PCName. In fact, if you're looking for some money for yourself, I'd like to see the murderer of Processus punished. Killing an Emperor's tax collector is punishable by death. Find his murderer, bring him to justice, and the Census and Excise Office will pay you 500 septims.
"Hope you'll bring that murderer to justice soon."
[500 Gold has been added to your inventory] "I heard you had been asking around about his murder. I'm glad to see this matter brought to its completion. Here's your reward, %PCName. Good to see there are still some citizens who understand their loyalty to our Emperor."
"Quite a shame. He was a good man, and a loyal servant to the Emperor."

Yes, but I no longer have the money. (if you have less than 200 gold)

"You've already spent it? That's not good to hear. That was Imperial tax money, after all. You'd do well to get that money back and return it to me."
"Don't come back until you've recovered the Emperor's gold."
[200 Gold has been removed from your inventory] "Good to see you were able to recover the Emperor's coin. I appreciate that kind of honesty. Since you've proven trustworthy, here's something you might be interested in. I'd like to see the murderer of Processus punished. Killing an Emperor's tax collector is punishable by death. Find his murderer, bring him to justice, and the Census and Excise office will pay you 500 septims."

No, he didn't have anything on him.

"No? It figures, I suppose. Well, thank you for letting me know what had happened."
As with numerous other NPCs, Socucius' face is not included as a choice in character creation.
With the rank of Agent, Ergalla is the highest-ranking Census and Excise employee in the game, as well as their only Breton staff member present in the game.
Socucius Ergalla is an online moniker used by Ken Rolston in the past. Not surprisingly, this NPC bears a striking resemblance to Rolston himself.
A distant relative of Ergalla, Syndelius, holds the same position at Census and Excise in ESO.