Morrowind:Dwarven
The UESPWiki – Your source for The Elder Scrolls since 1995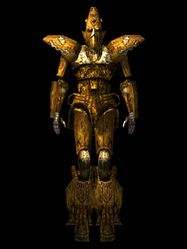 Dwemer (also known as Dwarven) armor and weapons, though heavier than steel, are highly sought after for their resistance to corrosion, unmatched craftsmanship, their ability to keep an edge, and even just for their rarity. Dwarven items have not been produced since the disappearance of the Dwemer long ago and are truly a treasure whether in the battlefield or on display.
Dwemer armor is most commonly found in Dwemer Ruins, though it is seen elsewhere as well: Somewhat complete sets are among others worn by Rimintil, Hlaren Ramoran, Farvyn Oreyn, Mollimo of Cloudrest and the guards of Venim Manor.
According to some sources, Dwemer armor is actually the outer plating of Dwemer Centurions and other Dwemer machines. This view is reflected in the book The Ruins of Kemel-Ze. However, other sources seem to indicate that it was specifically intended as armor to be worn by the Dwemer themselves. An example of this is the story of Chimarvamidium. Additionally, the discarded armor pieces found near piles of ash in Bamz-Amschend in the Tribunal expansion seem to support this theory.
Name
ID
Enchant
Dwemer Armor (Heavy Armor)
Totals
118
2200
3990
150.3
Dwemer Cuirass

dwemer_cuirass

30.0
600
1,050
20
20
Dwemer Helm

dwemer_helm

5.0
200
450
20
25
Dwemer Left Pauldron
Dwemer Right Pauldron

dwemer_pauldron_left




dwemer_pauldron_right

10.0
200
360
20
2
Dwemer Left Bracer
Dwemer Right Bracer

dwemer_bracer_left




dwemer_bracer_right

5.0
100
150
20
20
Dwemer Greaves

dwemer_greaves

18.0
200
660
20
2.5
Dwemer Boots

dwemer_boots

20.0
200
300
20
8.8
Dwemer Shield

dwemer_shield

15.0
400
510
20
50
Special Armor Items
[
edit
]
| | |
| --- | --- |
| Dwemer Boots | |
| Dwemer Helm | |
| Dwemer Shield | |
Weapons
[
edit
]
| | Name | ID | | | | Chop | Slash | Thrust | Speed | Reach | Enchant |
| --- | --- | --- | --- | --- | --- | --- | --- | --- | --- | --- | --- |
| | Dwarven Battle Axe | dwarven battle axe | 30.0 | 3,000 | 750 | 1 − 35 | 1 − 33 | 1 − 15 | 1.0 | 1.0 | 5.5 |
| | Dwarven Claymore | dwarven claymore | 27.0 | 3,500 | 1,200 | 1 − 33 | 1 − 29 | 1 − 20 | 1.25 | 1.0 | 7 |
| | Dwarven Crossbow | dwarven crossbow | 10.0 | 750 | 1,200 | 30 − 30 | — | — | — | — | 5 |
| | Dwarven Halberd | dwarven halberd | 24.0 | 1,000 | 600 | 3 − 17 | 3 − 13 | 5 − 28 | 1.0 | 1.8 | 7 |
| | Dwarven Mace | dwarven mace | 15.0 | 3,000 | 360 | 5 − 17 | 5 − 17 | 1 − 2 | 1.5 | 1.0 | 5 |
| | Dwarven Shortsword | dwarven shortsword | 8.0 | 1,050 | 300 | 7 − 14 | 7 − 14 | 8 − 15 | 2.0 | 1.0 | 4 |
| | Dwarven Spear | dwarven spear | 14.0 | 1,400 | 300 | 2 − 5 | 2 − 5 | 5 − 21 | 1.0 | 1.8 | 5 |
| | Dwarven War Axe | dwarven war axe | 24.0 | 2,000 | 450 | 1 − 24 | 1 − 13 | 1 − 2 | 1.25 | 1.0 | 5 |
| | Dwarven Warhammer | dwarven warhammer | 32.0 | 5,000 | 600 | 1 − 39 | 1 − 33 | 1 − 2 | 1.0 | 1.5 | 5.5 |
Special Weapon Items
[
edit
]
| | |
| --- | --- |
| Dwarven Battle Axe | |
| Dwarven Claymore | |
| Dwarven Dart TR | |
| Dwarven Halberd | |
| Dwarven Mace | |
| Dwarven Shortsword | |
| Dwarven Spear | |
| Dwarven War Axe | |
| Dwarven Warhammer | |