Morrowind:Corprusmeat
The UESPWiki – Your source for The Elder Scrolls since 1995
Corprusmeat


ingred_6th_corprusmeat_0X

0
See chart
Alchemy Effects
1st
 Drain Fatigue
2nd
 Drain Health
3rd
 Drain Magicka
Sources
# Samples
385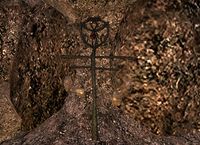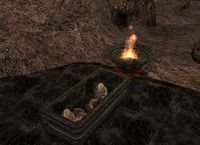 Corprusmeat comes in 7 different varieties:
Icon
Name
Large Corprusmeat Hunk


ingred_6th_corprusmeat_05

1.0
Large Wrapped Corprusmeat


ingred_6th_corprusmeat_01

1.0
Medium Corprusmeat Hunk


ingred_6th_corprusmeat_06

0.5
Medium Wrapped Corprusmeat


ingred_6th_corprusmeat_03

0.5
Small Corprusmeat Hunk


ingred_6th_corprusmeat_07

0.2
Small Wrapped Corprusmeat


ingred_6th_corprusmeat_02

0.2
Wrapped Corprusmeat Hunk


ingred_6th_corprusmeat_04

0.0
These differ only in name, appearance and weight, and, since their 3 effects are all negative, they are only useful for making potions to sell. They are found in large numbers in most 6th House strongholds, either in troughs or hanging from strings on altars.
Corprus Meat can be found in the following locations:
It can also be found on the corpses of most Dreamers.