Morrowind:Burcanius Varo
The UESPWiki – Your source for The Elder Scrolls since 1995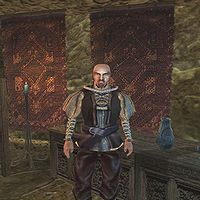 Burcanius Varo is an Imperial who runs the Varo Tradehouse with his wife Ferise in the town of Vos. There, he sells food, drinks, and beds to all visitors. Aside from his natural charm and ability to absorb fatigue from others, he knows no spells.
He wears expensive pants, expensive shoes, an expensive shirt, a belt of fortitude, a ring of fireballs, a life ring and an amulet of health. He has two keys on his person, private quarters key and key to Varo Tradehouse storage.
Dialogue
[
edit
]
(Disposition > 40) "Good day. I'm Burcanius Varo, publican of the Varo Tradehouse here in Vos. We rent beds, and I have a limited selection of goods for barter. If you're new here, I can also tell you where to look for other services, or a specific place nearby. If you're looking for someone in particular, I may be able to help."
Negative numbers indicate restocking items.

Items with a % in the Qty column are found growing on plants in the store, which will restock over time, not instantly like other restocking wares.

Items in bold are Leveled Lists. Click on them to learn more about what they may contain.
If you rent the bed, Burcanius will tell you it's on the bottom floor, when it's actually on the top. His dialogue about this is a copy-paste of that of publican in another nearby town, Tel Mora, hence its inaccuracy.