Morrowind:Aronil
The UESPWiki – Your source for The Elder Scrolls since 1995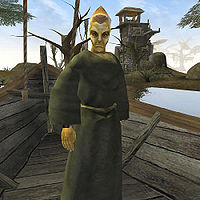 Aronil is a High Elf battlemage who will fight by your side during the Siege at Firemoth. Caution is advised, as he may accidentally damage you or your followers with his spells (see the quest article for strategies for dealing with this).
If he survives the quest, he can be retained indefinitely (i.e., until his demise) as a follower NPC if you swim (or Water Walk or Levitate) with him back to the mainland rather than take the scripted ship from Firemoth, and as long as you do not turn over the Ward of Akavir to Sellus Gravius as requested. If you take the ship back, Aronil will exit follower mode and remain with the ship. If you hand over the Ward, Aronil will disappear from the game, whether in follower mode or not.
Aronil wears an Imperial Newtscale Cuirass and Netch Leather Boots, along with a common robe and matching a shirt and pants. To supplement his Destruction magic, he carries a Daedric Dagger with him. Finally, he also has 5 Cheap Restore Health and 2 Quality Restore Health potions and up to 17 drakes on his person. Aside from his natural weaknesses to fire, frost, shock and magicka, his natural bonus to magicka, and resistance to disease, he knows the following spells: Fireball, Frost Bolt, Frost Storm and Lightning Bolt.
Related Quests
[
edit
]
Unique Dialogue
[
edit
]
Greetings

"I'll follow you. I hope you know what you're doing."