Lore:Nchuleft
The UESPWiki – Your source for The Elder Scrolls since 1995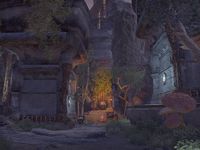 Nchuleft is a ruined Dwemer freehold colony found on the island district of Vvardenfell in the province of Morrowind. Situated on the edge of the Grazelands, the former city was believed to be a heavy manufacturing facility. Deep inside the ruins is a large machine that churns and vibrates.[1] It goes from the ceiling to the lava bed. While Nchuleft's defenses continue to be active,[2] it has since been used by the local Zainab Tribe, who scavenge the ruins for curios of varying values.[3]
History
[
edit
]
Nchuleft was a freehold colony and believed to be a heavy manufacturing facility back in the days of the Dwemer. In P.D. 1220 on Second Planting, Lord Ihlendam traveled to Nchuleft and met with some notable figures of the Dwemer Council, such as Proctor Anchard and General Rkungthunch. While the exact details of this meeting are unknown, it was enough to cause problems with Councilor Bluthanch. After some disagreements at a council meeting in Bamz-Amschend, Ihlendam was killed in an ambush in the middle of Chinzinch Pass.[4] After the Dwemer had disappeared, the Zainab Tribe of Ashlanders scavenged the ruins for tools to re-sell.
By 2E 582 the ruins of Nchuleft had been taken over by the Red Exiles, the band of outlawed Ashlanders that served the false incarnate Conoon Chodala. The Zainab Tribe enlisted the help of the Temple Ordinators in Vivec City, and sent an Outlander to delve into Nchuleft and gather various Dwemer scraps in the ruins.[5] At around the same time, the wizard Barilzar sent an explorer to Nchuleft to find a manual clockwork shift for his Tonal Inverter. It was retrieved by another explorer and the Tonal Inverter was built.[6]
During the Blight outbreak in 3E 433, Mallam Ryon, the mouth of Mage-Lord Gothren, sent an associate of House Telvanni to find the schematics for a dwemer scarab.[7]
Gallery
[
edit
]
See Also
[
edit
]
Chronicles of Nchuleft by An Anonymous Altmer — A historical chronicle of events in the Dwemer Freehold Colony of Nchuleft
References
[
edit
]