Lore:Mournhold Temple
The UESPWiki – Your source for The Elder Scrolls since 1995
This article is about the temple in Mournhold. For the religious organization, see Tribunal Temple.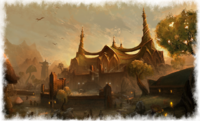 Mournhold Temple (sometimes called the Tribunal Temple) was the home of Almalexia. It is situated in the center of a large and decorative courtyard, which lies at the northern end of Mournhold, within the city of Almalexia.[1]
It served as a center of worship for the Tribunal, as well as an administrative center for the Temple itself. The temple is connected to the underground ruins of Old Mournhold through the temple sewers. Barilzar's Mazed Band has the ability to teleport the wearer directly to Mournhold Temple.
During the time of the Ebonheart Pact, the temple displays were quite multicultural, with Argonian and Nord relics placed alongside Dunmer. In 2E 582, the temple was invaded by Daedra due to a Maulborn plot to overthrow the Tribunal and return the Dunmer to Daedra worship. With Almalexia powerless to act directly, she depended on the Vestige to use the power of the Tribunal to clear the complex of invaders.[2] Almalexia disappeared from the temple in 3E 427, when she teleported to the Clockwork City and was slain by the Nerevarine.[1]
The temple survived the Argonian Invasion of Mournhold, as well as the general population's disillusionment with the Tribunal following the Red Year.[3] However, the last vestiges of Almalexia's presence were being removed by the New Temple almost two hundred years later.[4] Around 4E 201, they added a new sanctuary.[4] House Indoril had to erect a large building in Plaza Brindisi Dorom to house the many new priests and pilgrims who had come to visit.[4]
Gallery
[
edit
]
See Also
[
edit
]
References
[
edit
]
^ a b c To Milore from Nilara — Nilara