Lore:Mnemonic Planisphere
The UESPWiki – Your source for The Elder Scrolls since 1995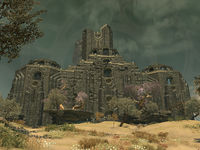 The Mnemonic Planisphere is a facility found on the outskirts of the Brass Fortress, in the Clockwork City. It serves the purpose of preserving Sotha Sil's memories, which manifest in floating balls of light known as stars that fly across its hallways. These stars are taken to the facility's center and placed in the planisphere, which resembles the night sky. These stars can be taken to a forming room to replay these memories. The planisphere is overseen by the Astronomer, whose free will is willingly taken to protect the facility until their death.[1][2]
History
[
edit
]
The Mnemonic Planisphere was built to preserve the stars created from Sotha Sil's memories. Roughly around 1E 2502, one of his disciples, a Dunmer man named Orvas was given the task to serve the Chrononymic Will of administrating the planisphere. In exchange, he gave up his sense of identity and assumed the role of the Astronomer for about a millennia.[3] When Mournhold was razed to the ground in 1E 2920, memories of the fury of Almalexia was added into the planisphere by Sotha Sil himself.[4]
Centuries later, the Astronomer had found an apprentice that would take his place in the form of the Clockwork Apostle, Amili Lloryn. In time, his age started to catch up to him. In 2E 582, the cult of Nocturnal had infiltrated the Clockwork City and brought dismay across the realm. The cult trespassed into the facility stole stars from the planisphere and delved deep into the separate wings. Lloryn enlisted the help of an adventurer to collect the stars and restore them back into the planisphere. Through the process, they learned about Orvas' past and the sacrifice he made to become the Astronomer. Lloryn was given the ultimatum of either assuming his place or keep her individuality. It is unknown what the outcome was but the planisphere was restored.[5]
Gallery
[
edit
]
See Also
[
edit
]
For game-specific information, see the ESO article.
References
[
edit
]
^ The Memories of Sotha Sil — Varlinsi Arandu, Apostle of Sotha Sil
^ Amili Lloryn's dialogue in ESO: Clockwork City
^ The Astronomer's dialogue in ESO: Clockwork City