Lore:Mantellan Crux
The UESPWiki – Your source for The Elder Scrolls since 1995
This page is currently being redesigned for the Lore Places Project (LPP).
The page may need work to meet the standards outlined on the project page.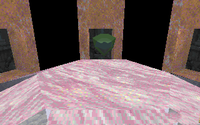 The Mantellan Crux was a small, self-contained plane located in Aetherius that was designed as a puzzle to test those who would seek the heart of Numidium.[1] Its name was derived from the Mantella, a large soul gem that was once used to power the Numidium. The plane served as the resting place and prison of the Mantella after it was blasted from Mundus at the dawn of the Third Era by Zurin Arctus.[2]
The Mantellan Crux was guarded by the Blind God, who took the form of a Giant Skull.[1] The Blind God was known to get quite jealous, and Sheogorath, who was a known visitor to this realm of Aetherius and had dealings with the Blind God[1], considered him to be a pompous upstart of a God.[3][4]
The Mantellan Crux is a realm of floating islands within a star filled void.[5] To travel through the realm safely required levitation, which could be facilitated by the enchanted busts and lanterns found within the realm. [1] The Great Pyramid, which was inhabited by vampires and other undead, was a notable structure in the Mantellan Crux.[1] Also within the Mantellan Crux were the Sword, a structure that had the appearance of a giant sword, and the Crossbow, a structure shaped like a crossbow. [1]
There are legends about the realm containing a doorway that leads to Oblivion, which could explain the Daedra found within the realm. However, the existence of this doorway is unconfirmed.[6]
The Mantella was rediscovered in 3E 401 by Nulfaga, a renowned sorceress and the Queen Mother of Daggerfall. In her astral travels, Nulfaga discovered it was being held within the Mantellan Crux.[7] This discovery precipitated a series of events that led to the recovery of the Mantella in 3E 417 by an unknown Agent of the Blades, culminating in the phenomenon known as the Warp in the West.[2][8]
Gallery
[
edit
]
Stories and books mentioning the realm predate the creation of the Mantella that powered Numidium.[9]
References
[
edit
]
^ a b Events of Daggerfall
^ Dialogue during the events of Journey to Aetherius
^ Sheogorath's dialogue during the events of Journey to Aetherius
^ Appearance of the realm within Daggerfall
^ The Daggerfall Chronicles — Ronald Wartow
^ Appearance of The Doors of Oblivion in ESO