Lore:Longhaven
The UESPWiki – Your source for The Elder Scrolls since 1995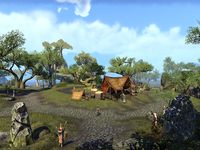 Longhaven is a town located in the region of Greenshade, within the province of Valenwood. Longhaven lies beyond the southern road from the city of Woodhearth, it overlooks the land known as the Shademist Moors. There is a local legend in Longhaven regarding the Wild Witch of Shademist, who lurks in the moors, creating potions that can cure anything.[1]
History
[
edit
]
During the Interregnum in 2E 582, the town of Longhaven suffered ill omens from the Shademist Moors when an ominous mist had begun to shroud the land, more so than it would typically do, which the Wood Elves of Longhaven have come to known. The Keerilth Clan of Vampires, who are known for their mist magic, had begun to haunt Longhaven and the moors, controlling Hunters and Bowman, to lure them in and kill them for food. One day, a Vampire Hunter by the name of Mel Adrys had arrived into Longhaven, to deal with the Keerilth Clan and force them out of the swamp. With the help of another adventurer, the Skull of Vangarion, which was used to create the ominous mist, as well as, the Keerilth Clan were destroyed, and so, Longhaven was freed from their curse.[2]
During the Imperial Simulacrum in the late Third Era, the town of Longhaven was an active settlement, being ruled by Countess Rillina. It had a rivalry with Longvale.[3] It was neighbored by several settlements, including Glenpoint in the north, Marbruk Field in the east, and Vullain Haven in the west.[4]
References
[
edit
]