Lore:Dragon Bridge
The UESPWiki – Your source for The Elder Scrolls since 1995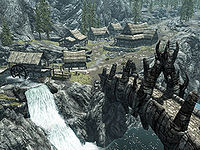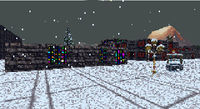 Dragon Bridge is a town located along the Karth River in the region of Haafingar, within the province of Skyrim. It is found down the road from Solitude. Dragon Bridge acquires its name from the ancient bridge that connects the settlement to the otherside of the river, and into the main road in Hjaalmarch. It is both strategically and economically vital. The town contains a lumber mill. The bridge has a figurehead that resembles a Dragon, hence the name.
History
[
edit
]
During the Imperial Simulacrum in the late Third Era, the town of Dragon Bridge was an active settlement, being ruled by Princess Dorina. It had a rivalry with Stonehills.[1] It was neighbored by several settlements, including Markarth Side in the south, and Solitude in the northeast.[2]
During the Skyrim Civil War, the town of Dragon Bridge was active. With the Civil War active in Skyrim, many soldiers from the Imperial Legion would pass through Dragon Bridge, on their way to the battlefield.[3] The soldiers' activity in Dragon Bridge has left the people with a negative view on the war and those involved, as not only both factions scout the area, but take advantage of their resources.[4]
At the time, the Emperor of Cyrodiil, Titus Mede II had visited Skyrim on a diplomatic mission. And so because of this, the Penitus Oculatus had followed suit and established their foothold in Dragon Bridge. Their leading figure was Commander Maro, who would also investigate the Dark Brotherhood in Skyrim.[5]
See Also
[
edit
]
References
[
edit
]